Luxury is among the first things that come to mind when you think of clawfoot tubs since these freestanding baths feel more timeless and classic than built-in ones. 
You could spend hours in this tub having a deep, relaxing bath sipping a glass of champagne in a candle-lit bathroom.
However, you can also take a shower in a clawfoot tub. You should have a shower curtain to avoid water splashing and a non slip bath mat to avoid slipping on the tub.
Otherwise if you already have a shower head installed, you definitely can take a shower in a clawfoot tub. 
Can You Have a Shower with A Clawfoot Tub
Clawfoot tubs aren't designed for showers, but you can still pair a shower with this bathtub and take a shower. A handheld shower can be placed on a cradle, just like an old telephone.
These tubs are perfect for bubble-bath enthusiasts looking to soak in plenty of water for an extended period. A handheld shower is an excellent, glam accessory ideal for people who prefer baths but wish to wash their hair without needing a stand-up shower.
Alternatively, you can install a showerhead and a shower curtain in your clawfoot tub. However, this setup is prone to water splashing out.
How Do You Keep Water in A Clawfoot Tub Shower
The best way to keep water in a clawfoot tub shower is to use a shower curtain and a liner. When you start showering ensure that the shwoer curtain liner goes inside the clawfoot tub and the shower curtain outside the shower.
This way you ensure that water does not drip outside the tub or drip onto the floor.
How Do I Keep My Shower Curtain From Sticking To A Clawfoot Tub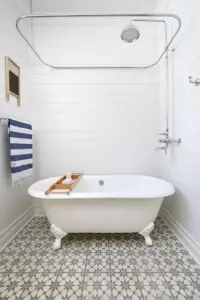 Your shower curtain sticks to the clawfoot tub when you shower because of the bernoulli effect theory. When run the shower the pressure inside the tub increases whereas the pressure outside is low.
Which inturn creates an an imbalance hence the air outside blows the curtain inwards.
Therefore to keep your shower curtain from sticking to a clawfoot tub you can heat the bathroom using a heater fan before you start showering to raise the temperature in the whole bathroom. 
You should also get a shower curtain with a liner, this way the liner goes inside the bathtub whereas the curtain will be outside.
So incase of any blowing the shower curtain will be the one that will blown not the liner which is inside the tub.
Another tip is to get a weighted shower curtain. The weights at the bottom make it heavy to reduce the probability of air being string enough to blow the curtain inwards.
Do You Need To Waterproof Around a Freestanding Tub
Its advisable to waterproof around a freestanding tub to prevent any kind of water damage due to the occasional water splashes which are likely to occur. 
You can choose to use waterproof paint or tile around the walls. This will be cheaper compared to dealing with water damage to the walls some years to come.
Are Claw Foot Tubs Worth It
Clawfoot tubs are worth it if you are into aesthetics and enjoy taking long hour soaks in your bathtub. They add style in any bathroom and are also deeper compared to the regular bathtubs hence giving a more enjoyable experience.
See also How To Fix New Moen Shower Valve No Water
What Kind of Shower Curtain Do You Use for A Clawfoot Tub?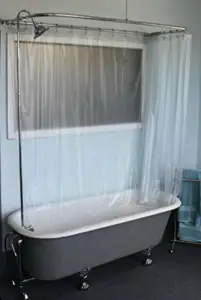 Length and width are of utmost importance when choosing a shower curtain for your clawfoot tub because it must fully enclose the bathtub. Furthermore, the height must be considered since the rod is usually attached to the walls or ceiling. 
So how big of a shower curtain do i need for a clawfoot tub? A custom shower curtain for a freestanding tub needs to be about 180" wide to ensure it covers the whole tub. Moreover, the height should be around 68" to make sure it hangs from the rod while still covering the tub.
To make sure you get the right measurement, consider determining your clawfoot tub's exact measurements because bathtubs from different manufacturers and eras come in varying sizes. 
Moreover, you will need to choose the shower liner material that suits you best. For instance, a fabric shower liner hangs better and appears more elegant, but a vinyl shower liner is easy to clean and is less prone to mildew and mold.
You must ensure your clawfoot tub's shower curtain is of the right size, style, and look and has no usability and design faults. 
Below are the best shower curtains for clawfoot tub:
Waffle Weave Clawfoot Tub Shower Curtain 180 x 70 Inch
This water-repellent shower curtain comes in different sizes, including the extra-wide 180 x 70 inches, which is large enough for a clawfoot tub. It's made of expertly tested and chosen polyester fabric and comes with 36 rust-free hooks and 32 rust-resistant metal rings. 
Since it's waterproof, you can use it without a liner.
Pros
Waterproof

High-quality fabric

Opaque
Cons
It molds if it's not rinsed and dried properly
N&Y HOME Fabric Clawfoot Tub Shower Curtain 180 x 70 inches
While this shower curtain comes in numerous sizes, the best one for a clawfoot tub is 180 x 70 inches. It's made of premium polyester, and since it's water-repellent, it can be used without a liner. 
It's PVC free, durable, easy to clean and maintain, and dries quickly.
Pros
It doesn't mold

Hotel quality

Machine washable

It's not transparent
Cons
The bottom isn't weighted
See also KBRS Shower Pan Reviews
Why are clawfoot tubs popular?
Although clawfoot bathtubs are less popular today, people who value vintage styles and other enthusiasts value these tubs. Below is why people like clawfoot bathtubs.
1. Flexibility In Placement
Due to the freestanding style of these bathtubs, you can install them anywhere in your bathroom, in the middle of the room, perpendicular, or parallel to the wall. Depending on your bathroom's size, you can use it to fill odd spaces to make a tiny bathroom appear more natural or let it serve as a centerpiece. 
2. They Are Larger Than Standard Tubs
Since clawfoot tubs are made for soaking, they are bigger and deeper than standard bathtubs, and the feet also make them taller. These tubs are ideal for people looking to spend hours in the tubs after a long day unwinding.
3. Flexible Plumbing Installation
Clawfoot tubs have beautiful, antique, ornate bathtub fillers that can be installed anywhere in the bathroom, making for a flexible installation. However, should you decide to install your clawfoot tub anywhere other than against the wall, you will need to move the drainage lines and supply lines to where you wish to install the bathtub.
4. Different Styles Available
Clawfoot bathtubs are commonly made of acrylic or cast iron. The ones made of cast iron are typically lined with porcelain and are more durable than acrylic tubs (they are lighter). 
In addition, clawfoot tubs are available in different styles, with the most common ones being:
Single slipper

Flat/ classic rim

Double-ended

Double slipper
Single slipper clawfoot tubs have a single raised end, while double slipper bathtubs combine single slipper and double-ended looks and have both ends raised. On the other hand, double-ended bathtubs have a rounded lip and a level edge with a centered faucet. 
A classic rim tub has a flat rim all around, and the faucet is placed on one end.
5. Easy To Clean
It's easy to clean a clawfoot bathtub with a hand shower than a traditional tub because the shower hose lets you target water to clean and rinse all the areas of the tub. Moreover, you can effortlessly rinse or wash big things such as dogs as the raised pegs or feet put the animal at a comfortable level.
However, cleaning the behind and underneath the bathtub and around its feet is challenging if it's installed against the bathroom wall. In addition, a porcelain clawfoot tub is prone to chipping, scratching, and staining, so it requires gentle care. 
Conclusion
While showering in a clawfoot tub is possible, you are better off using this tub for bathing only because that's its intended purpose. A clawfoot bathtub is beautiful and will add to your bathroom's aesthetics.
See also Kerdi Shower Pan Problems