This is one question that many people wonder in their minds but are afraid to ask. Which is understandable but today we are going to let you know how people with no arms wipe.
You will be surprised at the number of times people with no arms get asked this question. Clearly the toilet is a private area and nobody asks you how you handle your own business there.
Do you fold the toilet paper when you wipe? Do you pat or wipe? Do you read a newspaper while there?
We understand the curiosity and we are going to let you in on all that happens.
You do not have to worry because they do maintain high toilet hygiene standards and with dignity too.
People with no arms wipe with their feet which is made possible after some training from an occupational therapist, others use a smart toilet seat bidet or the help of a caregiver.
In this article we will cover in detail how people with no arms wipe to avoid giving them those looks after they visit the toilet.
How Do People With No Arms Wipe
As stated above, people with no arms do wipe their bums on their own, using a bidet toilet seat operated from a remote or asking for help from their caregivers. We will discuss each option in detail below.
Occupational Therapist 
People who were born without arms usually work with an occupational therapist to help them develop, improve and maintain skills needed for daily living. 
This includes maintaining proper toilet hygiene.
This allows them to get flexible enough to be able to wipe their bums with their feet which they can maneuver their feet to wipe their bum.
And once they are done they also wash their hands too.
Smart Bidet Toilet Seat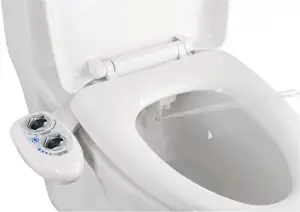 Most people with no arms have smart bidet toilet seats installed in their toilet at home. The bidet toilet seat comes with a remote which they can operate with the foot.
With the help of the remote they can preheat the seat to enjoy a warm toilet seat before sitting down to do their business. 
Spray pre mist to avoid skid marks. Once done, the bidet cleans them up with warm water and finally dryes their bum with a warm air dryer.
Caregiver
For the times a person with no arms is out of the home or those with toilets that are not modernized to serve their needs. They can use the help of a trained caregiver.
This could be their friend or a trained family member to assist them in cleaning up.
There is no shame in this as the person will be well trained to handle it.
See Also How Long Is A Toilet Paper Roll Tube In Inches
Final Words
You are not the only one who has wondered how people with no arms wipe. It may not be as complicated as you might have thought but they get it done.
It may seem too much to walk right up to a person with no arms to ask them this question because they may get offended. 
Clearly no one asks you how you handle your wipe because what happens in there is private. Nonetheless, do not be ignorant to think that they walk around town with poop in their butts.
People with no arms wipe with their feet which they have trained with the help of an occupational therapist to be able to take up toilet paper and wipe their bums.
Additionally some use aids such as a smart bidet toilet seat or ask for help from their caregivers.
You do not have to think that they do not take their toilet hygiene seriously because they actually do.