Finding the best color for your bathroom accessories may be troublesome, given the numerous factors that come into play. A perfect color for the bathroom can make a big difference in everything, from how much light it lets into the vibe you want to create.
Two of the most trendy and multifaceted colors to think about are Kohler Almond and Biscuit. Designers and homeowners use them to convey elegance and refinement.
Although different colors communicate distinct meanings, there are certain common aspects to how a given color influences the psychology and performance of the customer. 
Almond, for instance, emphasizes elegance, tranquility, formality, and neutrality. Biscuit, on the other hand, elicits a warm tone from the buyer.
The purpose of this post is to compare Kohler Almond and Biscuit.
Is Kohler Almond Darker Than Biscuit?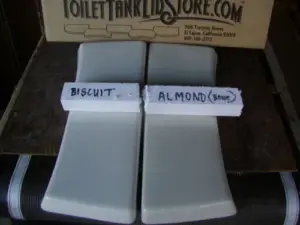 Almond is a brighter shade of yellow and darker than the Biscuit.
What Color Is Biscuit Kohler?
Kohler BiscuIt's a traditional, creamy color with a little yellow undertone. It complements virtually every color in the Kohler range and enhances beautiful earth tones.
Almond is a brighter shade of yellow and darker than the Biscuit.
What's the Difference Between Kohler Almond And Biscuit?
Kohler Almond toilet is a brighter, appealing, off-white with a shade of brown, while the Kohler Biscuit one is a creamy, off-white that resembles attenuated lace or pear. Kohler Almond encourages neutrality, formality, and tranquility, whereas Kohler Biscuit emphasizes warmth.
Kohler Almond Toilet
The manufacturer designed most Kohler Almond toilets with aesthetics and convenience in mind.
For example, Kohler K-3987-0 has an almond shade to produce the desired atmosphere and inspiration while enriching your bathroom experience. It has the correct hue, which matches the bathroom interior décor.
Most versions do not include a toilet seat, so you must purchase one separately. On the plus side, several almond color variations may fit into almost every bathroom size, whether compact or spacious.
The company is still improving on these designs to add the most up-to-date features to compete in the market.
Kohler Biscuit Toilets
When choosing the best Kohler toilets, people typically prioritize design and aesthetics. For that reason, most people consider a Kohler biscuit ideal for individuals who want a warmer vibe. 
Units in this category provide a better flush, resulting in a cleaner bowl.
Nevertheless, not all Kohler Biscuit toilets come with the same characteristics. The primary focus here is on the common ones- they are often paired with innovative technology to guarantee improved performance.
The next section goes over some key aspects that distinguish this class, so you can decide which option is best for you.
See also onyx Shower reviews
Kohler Almond Toilets Vs. Biscuit: Differences
Below is a feature comparison of Kohaler Almond Toilets vs. Kohler Biscuit toilets.
1. Water Consumption And Flushing Power
Most toilets with almond surfaces like K-3987-0 have dual flush choices, including 1.1 and 1.6 gallons. If you want a partial flush, a 1.1-gallon feature is available. 
A complete flush is essential for removing solid waste and requires 1.6 liters. 
Furthermore, some versions include a trip lever that enables you to use both flush choices. Such additions make them extremely useful since they minimize the need for several buttons or handles.
Some models include class five flushing mechanisms, which make bulk-flushing possible.
Kohler Biscuit units provide a consistent flushing power that removes all waste material from the toilet bowl. The effectiveness of the flushing mechanism depends on various parameters, including the trap-way, flush valve, and water surface area.
These models also flaunt a dual flushing mechanism to save water- for example, liquid waste requires 0.8 gallons of water to clear.
Solid waste may demand more water, with each flush requiring 1.28 gallons.
See also Glacier Bay Toilet Reviews
2. Shape And Design
Regarding design, Kohler Almond toilets come in one-piece or two-piece configurations. The one-piece design versions combine the toilet and tank into a single structure.
As a result, these designs take up less space since there are no spaces between components of a unit. 
One-piece design models are often more expensive than two-piece equivalents owing to the former's seamless profile. Developing and crafting porcelain parts into a single item is costly.
Models with two-piece configurations have a larger exposed surface, which needs more cleaning. The units may also be damaged between parts since they are not all made from the same mold.
One advantage of this model is that It's less expensive.
Kohler Biscuit toilets come in elongated or round configurations.
An extended form has a front oval pattern that stretches further to give more leg room and comfort.
Conversely, rounded designs are compact and might be a good choice for modest bathrooms. 
Kohler Biscuit versions embody vitreous China materials. It's a blend of several types of clay, silica, and fluxing agents. 
It's a gleaming substance with a gloss and a waterproof covering that makes cleaning easy.
See also Toto colonial white vs cotton
3. Installation Process
The DryLock Fast Install System used on most Kohler Almond units simplifies installation. You can employ a socket wrench to secure the tank to the bowl.
Even though you may not need a bolt in this installation, you will not have trouble figuring out where it should go. 
The installation procedure will not be a problem for anyone, even a newbie or less skilled DIYer. Additionally, the user's handbook comes in handy for additional instructions.
The fact that installation minimizes time and money wastage is another vital feature. You are not as likely to hire a specialist or a handyperson.
Like Almond variants, fitting Kohler Biscuit toilets will not always require the assistance of a professional. Additionally, they include an installation handbook that has detailed instructions. 
See also Tuscany Toilet reviews
Kohler Almond Vs. Biscuit: Which One Is Better?
When faced with these two options, many individuals become overwhelmed. After reviewing Kohler Almond and Biscuit toilets, one factor that should stand out is the type of vibe you want to draw from either unit. 
Look at the features of both products and decide whether they suit your taste.
Final Thoughts
Hopefully, this piece has met your expectations and helped you decide between the Kohler Almond and Biscuit toilets. 
Biscuit toilet is often creamy, off-white like pear, but Kohler Almond is lighter, stunning off-white with a shade of brown. Kohler Almond toilet delivers seriousness, neutrality, and tranquillity, while the Kohler Biscuit toilet gives a warm vibe. 
Therefore, if you endeavor to create a fun bathroom session, you should understand why you choose a specific color kind. 
See also who makes project source toilets